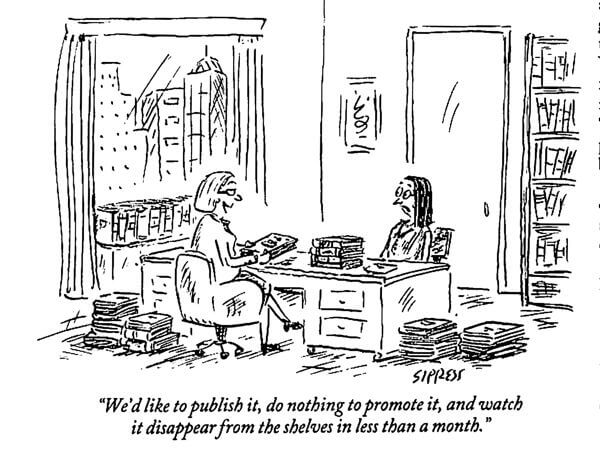 Be honest. Do you want to publish a book to impress people or to make a living as a writer?
If your heart is set on seeing your name on the cover of a book published by a traditional publisher, then go after it with everything you have. Chase it like a dog after a pork chop.
Just realize that today, self-publishing success has become an opportunity to gain the attention of traditional publishers. It's the new way to fight the crowded bottleneck of all those millions of others out there trying to do the same exact thing. Success in any field doesn't go unnoticed for too long.
Of course, traditional publishing isn't without its pitfalls. As an industry facing a great deal of uncertainty, traditional publishers have tightened the reins. New contracts can include provisions that mean less control of your work, and worst-case-scenario, even loss of your copyright regardless of whether or not your book even comes out. Feeling frisky about an education into the horrors faced by writers under contract to publishers? Go visit ThePassiveVoice.com, a site run by a lawyer who has worked in the publishing industry for decades. Often, he highlights the egregious things found in the publishing agreements sent to him by writers under contract. One thing is clear. Publishing is an industry facing drastic shrinkage, where sometimes the most creative work done by the publishers involves dreaming up inventive new ways to upend the writer by the ankles and shake until more money falls out from their pockets.
Regardless, with a publisher behind your book you may even be forced to wait 12 to 18 months to be released. In some cases, books are never released for whatever reason… even after the contracts are signed. This is the pure definition of literary blue balls.
Plus, to make things even more difficult for the writer to make a living doing what they do best, uh, writing…the contract you affix your John Hancock to may prohibit you from, uh, writing anything else. At the very least, you will be under embargo against competing against yourself.
All in exchange for an advance and the hope there will be more royalty checks coming.
How big of an advance? Well, it seems the days of windfall advances to new writers is past history. Today, advances for new writers now average in the mid-five figures and are shrinking faster than Luke Skywalker's junk after a cold dip in a Degoabah swamp. Now, I realize that a few thousand bucks may represent a life-changing sum of money for some, but it seems a paltry sum to sign away nearly all control of something you devoted so much of yourself to create.
You also have to take into account that your advance is recoupable against future royalties. That means the 8 to 10 percent royalty per unit sold they've given you in that contract has to earn back every penny of that advance money before you see another dime. That is if you even get an advance. Some publishers have started to move away from handing out any upfront dough and are instead basing their deals on royalties alone.
In a way, it's almost like religion. It'll work out better for you if you have faith there's a reward at the end.
Yes, dear writer, the deck is stacked against you. However, those awful publishers put up the financial risk and you signed the contract allowing them to do whatever they want.
A deal with a major publisher can open doors for you. Maybe even lead to bigger opportunities. The sad truth is that because publishers release so much content every month, not every one of their books will succeed and not every writer under contract will make a living. Some writers succeed with major publishers and go on to have those careers the rest of us drool over. Most however, do not. That's the way it has always been.
Can you make a living self-publishing? Yes.
Be your own boss. Write what you want to write. Be on your own schedule. Just remember… if you don't sell books, you don't make money.
How much can you make through self publishing your own books?
Possibly the best-known examples of DIY self-publishing success are John Locke and Amanda Hocking. Both were making six figures, monthly, on their self published books. That's right, hundreds of thousands of dollars a month! Look it up. Both eventually signed big deals with major publishers. Google the term: "self-publishing success" and you'll find the latest person to use their self-publishing efforts as an audition to land a major book deal — because a writer with an audience and the know-how to make it happen on their own is a much more attractive proposition for a risk-adverse industry. 
The good news is that you don't have to be today's buzzed-about indie author to make a decent living at this. Because e-books are being sold today in mind-blowing numbers, you can stay under the radar and still move enough units each month to make a living. It takes luck and perseverance and a growing catalog of content.
Me? I've had my own indie publishing imprint since 2005, and have been doing this full time for the last two years. I can tell you it's thrilling to be able to write what you want, how you want and sell it to book buyers without a middleman screwing everything up or putting their hands in your pocket.
If you could do anything in the world, anything at all, what would it be? Personally, I'd want to do exactly what I'm doing now. The only difference is that it would be from a desk with a view of the beach.  
*****
I'm a full time writer, publisher and digital content creator. I've been marking the 8th anniversary of the launch of my indie imprint, Glenneyre Press by sharing some of what I've learned about about digital publishing.